Mobile Home Skirting

If you're looking to enhance the curb appeal of your mobile home, investing in high-quality skirting is a great place to start. At DIY Home Center Outlet in Ocala, Florida, we offer two types of mobile home vinyl skirting.

Whether you opt for the high-performance skirting or the traditional vinyl skirting, you can trust that these high-quality products will provide the finishing touch around your mobile home foundation, while also adding years of beauty and durability.

At DIY Home Center Outlet, we are committed to providing top-notch products for your mobile home, and our vinyl skirting options are no exception.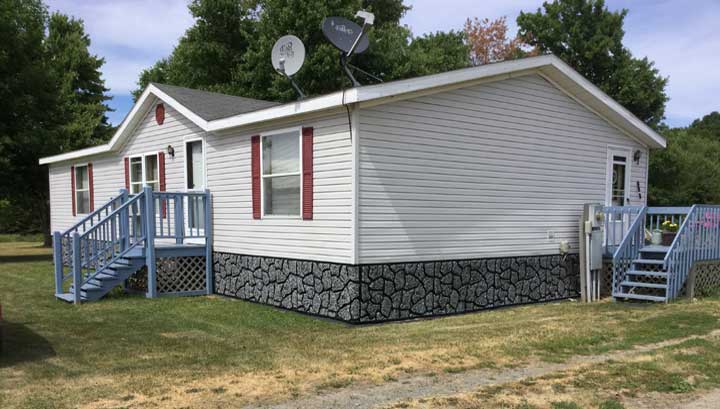 EverRock Vinyl Skirting
This durable skirting option is designed to withstand scratches and dents, thanks to its tough vinyl construction. The hidden seams provide a seamless and polished appearance while offering protection against moisture and pests. EverRock Vinyl Skirting is easy to install around corners, and its flame retardant properties provide an additional layer of safety. Enhance the look and protection of your mobile home with EverRock Vinyl Skirting, available at DIY Home Center Outlet in Ocala, Florida.
Traditional Vinyl Skirting
The second traditional vinyl skirting is a value-priced option that doesn't skimp on performance. With rugged good looks available in five colors that work with any home exterior, its engineered vinyl panels are designed to be durable and weatherproof. It's easy installation also features a two-piece top trim with a spring lock that holds panels securely in place. It's wind-resistant system has special ribbed panel and trim components that work together to provide additional support in high winds.

Discover New Deals on Facebook!
We regularly update our Facebook page with our newest acquisitions and deals. Our inventory changes quickly, so follow us and check back often!
DIY Home Center Outlet
Enjoy Savings on Mobile Home Skirting!
Join our mailing list for even more great deals!